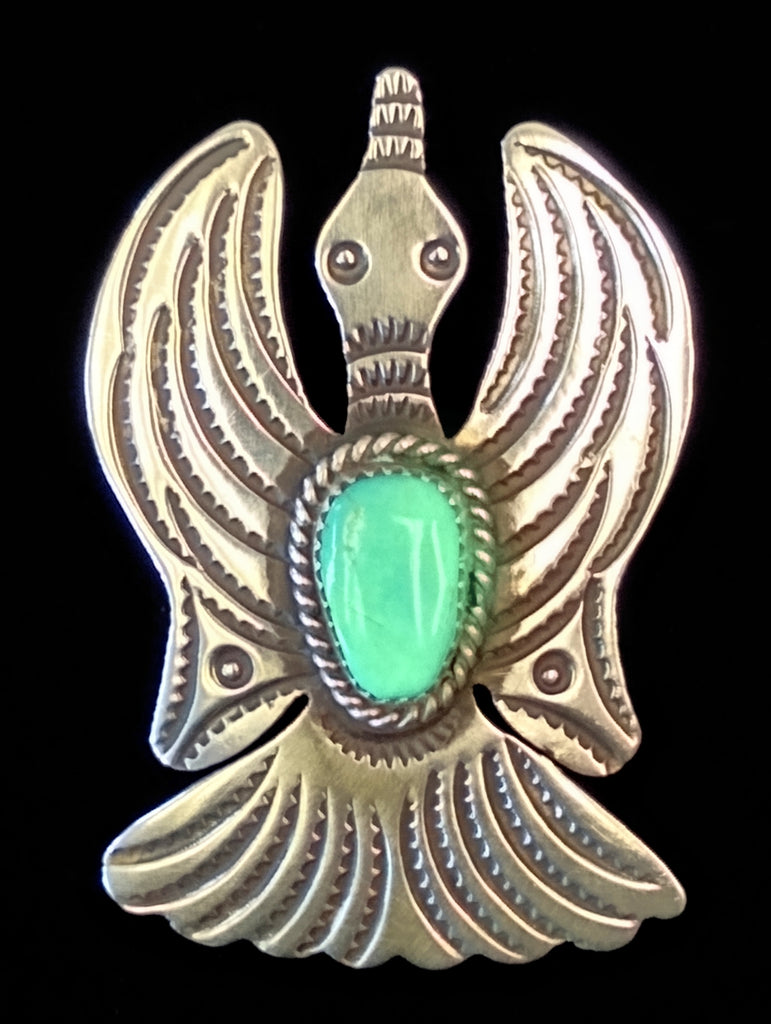 Navajo Sterling Silver and Turquoise Pendant Pin by Albert and Jacqualine Cleveland
Native American Navajo Sterling Silver and Turquoise Pendant Pin by Albert and Jacqualine Cleveland - $100
PENDANT:  2-1/2" W  x  2-1/4" H
CONDITION: Vintage, Never Worn

This beautiful pendant pin by renowned artists Albert and Jacqualine Cleveland can be worn as a brooch style pin, or a pendant. It would look great hanging from a silver chain, or a string of turquoise beads. This pendant pin is made of solid silver, in the shape of a peyote bird, bearing a rich stamped design plus a turquoise cabochon approximately 3/8" wide by 5/8" high. This piece can be worn by both men and women. It perfectly captures Cleveland's signature style. The back of this pendant is stamped sterling silver, and bears Cleveland's hallmark proving its authenticity.
In Navajo culture, animal figures carry symbolic meaning that is deeply interwoven with cultural practices. The peyote/water bird is associated with thunder, lightning, and visions. It symbolizes power, strength, and nobility.
Well known Navajo artist Albert Cleveland is a master silversmith who makes museum quality sterling silver jewelry which can be worn by both men and women. His signature style is born of old, traditional Navajo silversmithing. Noted for working in the 1940's curio style, Cleveland often uses thunderbirds, water birds, eagles, bears, horses, and other animals of traditional Navajo folklore. Cleveland rolls silver ingots down by hand into a flat sheet, which is then formed into beautiful pieces of jewelry and hand stamped, often incorporating turquoise. Cleveland is of the Dashchanii clan, and was born on the Navajo reservation near Mt. Taylor in 1954. He and his wife, Jacqualine, currently live near Gallup, New Mexico, where they often work together. When working alone, Cleveland signs his pieces AC, while pieces produced from the collaboration with his wife bear the hallmark AJC. These days, Cleveland produces much of his retro-style jewelry from copper and nickel-silver, so we are proud to present here some of his older work made of solid sterling silver. 
Because these items are hand-crafted by local artisans using traditional techniques, slight variations may occur. Note that colors may vary according to each display monitor.
SKU: JNASPPA006