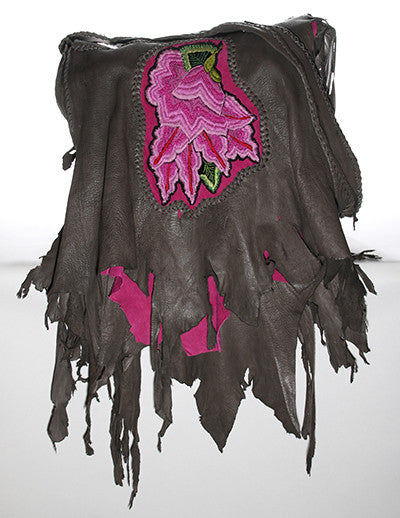 Xochitl™ Shoulder Bag - Mendocino (#003)
Charcoal Deerskin Lined with Fuchsia Lamb Suede.
Adorned with Hand Embroidered Pink Xochitl™ / Flower with Hand Beading.
Mendocino #003 has 3 pockets, one on the front, a hidden one on the back, and the oversized main pocket measures 15"L x 15"W x 2"D. The wild natural edge of the hide creates a W!ld fringe-like effect. The pocket closures (2) are sterling silver buttons. 
Our designer, Sally Moon, absolutely loves this one. In fact, she wore it for a few months. She realized that it was too large for her short stature. This would be great for a larger/taller person. She is 5'1". 
$4,000 Reduced to $3,000
Designed and Hand Made in Old Town Albuquerque, NM, USA. 
Signed and Numbered by Sally Moon, American Couture™.
SKU: Xochitl #003